Audio-recorded interviews
The heart of a good life story is often found in guided, audio-recorded interviews with the narrator that are then transcribed.
Some clients simply wish to conduct a series of interviews without knowing how to proceed. We offer this as a stand-alone service. We conduct the interviews, transcribe them, and furnish the client with transcripts and if requested, the audio recordings.
Ideally, interviews unfold as a series of animated, informal, thoughtful conversations between the narrator and an enthusiastic, supportive, patient, and intuitive listener — the interviewer. To ensure that the interviews are as productive and effective as possible, we observe a number of best practices.
Planning is crucial. Before the interview, we gather as much biographical information as possible and identify any themes or storylines that the narrator wishes to develop. We also ask if there are any topics or events that are "off limits." Then we structure a series of intuitive questions that we send to the narrator a few days before the interview, so he or she has time to reflect on them and prepare.
A primary concern is setting understandably nervous narrators at ease and drawing them out. Working with the narrator, we choose an environment that is friendly, relaxing, and free of distractions. Often this is the narrator's home or office. We also decide on the best time of day when the narrator is fresh as well as the length of the session.
 The digital audio recorder is unobtrusive — about the size of a pack of cards — yet picks up every word clearly. By prior arrangement, we can provide clients with digital audio files of the interviews.
I have conducted over 200 hours of interviews with a wide variety of narrators.
The cost of transcription of audio-recorded interviews starts at C$110 per hour of interview and depends on variables such as accents and complexity of the topics.
If you need the services of an experienced interviewer, call me toll-free at 1.800.864.9152 or email me. We can discuss your plans in a complimentary no-obligation consultation.
Philip Sherwood
Owner, lifewriters.ca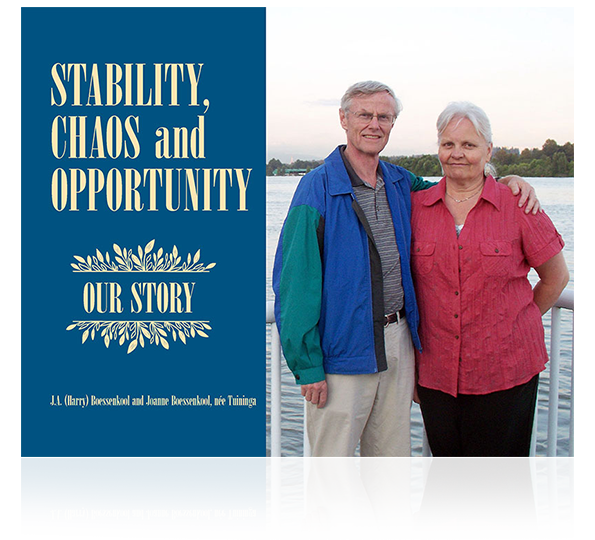 "Philip, thanks for helping us fulfill our dream of writing our book! Great to know you and work with you! Like we heard you say numerous times, 'It's all good!'
From the acknowledgements: "Working with Philip has been terrific! We appreciated his encouragement, patience, and ability to keep us on track for deadlines. Through it all he remained cheerful, helpful, fun, and professional."
— Harry and Joanne Boessenkool, authors